Choosing Honoris Educational Network and the Bachelor of Business Administration
First, it was a great pleasure for me to have followed my three years course in Bachelor for Business Administration with Honoris Educational Network.
Personally, I have chosen Honoris Educational Network after my friend's feedback who follow their courses with this institution. It can be considered one of the best known. I wanted to join in and follow my course in Business Administration. I choose this programme as being a Management Support Officer in the public sector in Rodrigues, this could later contribute to any promotion in my career.
Honoris Educational Network has provided a lot of facilities even though it has been a distance learning course. During the first year, I was provided with local lecturers who have been very useful to me. Then with the Covid 19 pandemic, I started following the course online, at first it was a bit difficult but with the help and collaboration of the online lecturers, it has become so easy for me. And the best of all was that all the online courses were recorded, and I can follow them when I was not free on Saturdays and when there were connection problems.
Facilities given by Honoris Educational Network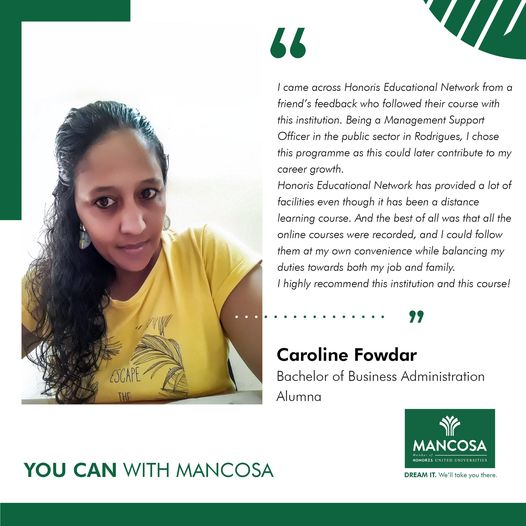 Local lecturers have been very helpful
Online Courses have been an opportunity during the Covid-19 pandemic
Recorded Online Courses
Her Journey with Honoris Educational Network
My three years with Honoris Educational Network were a great experience and a very challenging one as I balanced my job and family. I had to put on a lot of sacrifices to fulfill all my assignments and exams. But I don't regret anything as I know what I was doing will be fruitful and that was it.
How this programme will contribute in her career path?
As I mentioned before, this programme will help me as being a Management Support Officer this will contribute later to any promotion and this programme has also given me the opportunity to discover a lot for my future
I recommend other people to join this institution to follow this course because it is a course which help to improve your knowledge at work almost all those who work in administrative departments.