The human resource (HR) department plays a crucial role in any company's overall performance. As a result, human resource management has become a highly sought-after qualification. But what exactly does one learn in HR management, and why is it so valuable to businesses? Let's find out.
What is human resource management?
The process of recruiting, selecting, training, retaining, appraising, and rewarding personnel is referred to as human resource management. Additionally, HR managers ensure the safety, well-being, and health of people in the organisation and also those who are coming in for interviews.
To increase individual and group performance, human resource management must provide, maintain, and develop individual and group efficiency and effectiveness. According to the diagram below, HR functions have been outlined: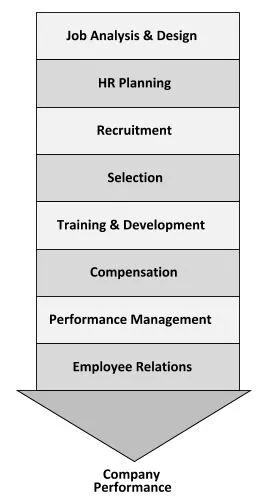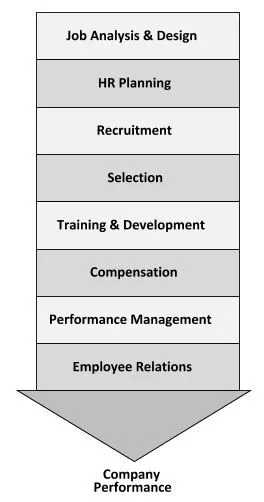 What does a HR manager do?
It is only recently that human resource has taken on the role of a strategic partner. In the development and execution of strategies, HR is viewed as a collaborator on an equal footing. Specifically in terms of human capital considerations, business competencies, preparedness, and building HR practices as strategic differentiators, human resource management has been contributing to business strategies. A HR manager's most significant responsibilities include:
Job analysis involves "the process of getting detailed information about jobs." Work descriptions and job requirements are prepared using the information from the job analysis. A work specification outlines the information, abilities, and attitudes that a candidate must possess in order to perform the job, whereas a job description lists the tasks, duties, and responsibilities that the position includes.
Human Resource Planning is often referred to as workforce planning, talent planning, or personnel planning. It is the "process through which corporate goals, as stated in mission statements and company strategies, are transformed into human resource objectives to ensure that the organization is neither overstaffed nor understaffed.
Recruitment is the "practice or activity carried on by the organisation with the primary purpose of identifying and attracting potential employees."
While the goal of recruiting is to create a pool of competent candidates for a specific open position, the human resource management function of selection emphasizes on selecting the candidate who is most suitable for a given open position from the list of candidates.
Training and development are also referred to as skills development. While training has a short-term focus and involves "a planned effort to facilitate the learning of job-related knowledge, skills and behaviour by employees," development has a medium to long-term focus and refers to "formal education, job experiences, relationships, and assessment of personality and abilities that help employees prepare for the future."
Compensation is an important and complex human resource management function in any organisation. It is the remuneration that an employee receives in exchange for the work that they do. It is important that an organisation has a compensation package that is both fair and attractive to retain and motivate existing employees.
Performance Management is the process of monitoring and evaluating employees' efforts to ensure achievement of the organisation's goals. The performance management function within human resources ensures that employee efforts are aligned with organisational goals and objectives. It is a cyclical process that involves regular feedback and assessment of employee performance, with the aim of improving productivity and performance. Performance management is an important component of any successful organisation, as it helps to motivate employees and improve their performance. It also provides valuable feedback that can be used to improve employee skills and enhance their productivity. Through regular performance reviews, employees can track their own performance and take steps to improve where necessary. By providing employees with clear goals and expectations, as well as regular feedback and support, performance management helps to foster a positive work environment that encourages employees' growth and development.
Human Resource is an important function in any business that plans and operates strategically. It is a valuable service that helps businesses maintain a strong and healthy workforce, and it is a multi-disciplinary field that is an excellent career choice for a goal-oriented person. A career in human resources is career-driven, and it is a perfect choice for those who are looking for a fulfilling and rewarding career. With the HR programme from MANCOSA fully online, studying human resource while you work can be a reality.
Bcom Human Resource Management
This Bachelor of Commerce in Human Resource Management from MANCOSA provides students with a strong grounding in the fundamentals of Human Resource Management.
BCom (Honours) Human Resource Management
The Bachelor of Commerce (Honours) Human Resource Management from MANCOSA is a one-year postgraduate degree that prepares students for employment in middle to senior management.