Who is Akshada?
Akshada is not in the typical white collar roles! Having graduated with Cum Laude for MANCOSA's Master of Business Administration, Akshada has been able to steer her engineering career with a great sense of business acumen. Engineering has been traditionally a male-dominated profession, nonetheless, Akshada expresses high levels of interest in this field and enjoys her job while continuing to re-invent her skills. Her success mantra is to be ready when the opportunity comes, which means you need to prepare yourself for it.
Today, she gives glimpses of what is her day like, her personal and professional life, as well as few insights on the current and future jobs landscape.
Where do you work and what is your day at the "office" like?
I am currently employed at Rey & Lenferna Ltd as an Automation Sales Engineer. My daily job routine is mainly divided into two main parts: office paperwork and technical site work. As an Automation Sales Engineer, my main task consists of providing solutions in the automation industry which also involves the procurement and tendering aspects, site-based follow-ups and project realisations.
How do you visualise your day in the morning?
Devising a way to successfully accomplish my daily activities in a timely manner, is mainly how I visualize my day in the morning. The day begins with my early energy booster, my meditation session. During the current lockdown situation, the WFH concept and household chores take up the large portion of the day. However, I make it a must to allocate some time to cooking new dishes; something which is now everybody's lockdown passion. I am also thankful to have my triweekly online gym sessions and I endeavour to grasp new knowledge by reading a bit prior to ending the day.
What do you enjoy the most about your job?
My job being both office and site based, provides me with the opportunity to meet and interact with different people, while also enabling me to learn about new locations by commuting to various places around the Island. Most importantly, with each site-based intervention, I can grasp a wealth of knowledge, be it technical, managerial, or even for personal growth. Additionally, the feeling of being able to provide the right solutions to the company's clients is one of the most gratifying and for which I appreciate my job.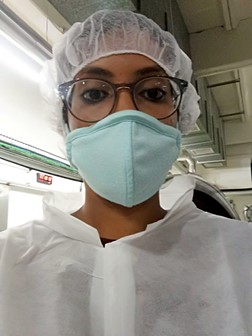 What do you do after a hectic day at work?
I usually head to the gym to resource myself after an overwhelming day's work. The 1-2 hours gym sessions allow me to cut off from the daily trivialities and to solely concentrate on myself, while also guaranteeing a good night's sleep.
What lessons has the pandemic/lockdown taught you?
The Covid-19 pandemic and the ensuing lockdown has demonstrated how easily our contemporary lifestyle can be disrupted. I have learned not to take things for granted and to appreciate what I already have. The lockdown has also enabled me to spend more quality time with my family, as well as providing enriching learning experiences through online platforms. I have also been able to further focus myself on my personal development, to which I was previously unable to allocate time for. The WFH has also revolutionised the conventional work culture.
The job landscape is changing, especially with the pandemic, what is your advice to students and potential students looking to progress in their career or even considering a career transition?
Slow progress is better than no progress. Grab opportunities that come your way, whether they match your field of study or not. Every bit of knowledge is valuable and may prove handy in the future. The secret of success is to be ready when the opportunity comes. With this pandemic, the world is being subjected to an array of changes and it would ideal to be properly equipped to have a competitive edge in the now saturated job market.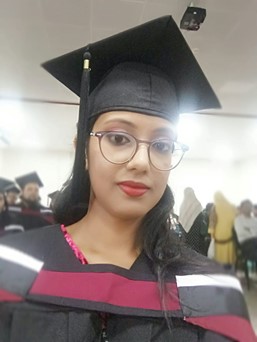 How does business management studies fit in any industry? Being an MBA Alumna, can you elaborate on the relevance/importance of an MBA to you and in general in the 21st century?
Today's globalised world has seen the need for business management studies even more indispensable. Irrespective of the industry, organisational, analytical, and planning skills are essential in the 21st century. MBA is an industry focused course that has enabled me to further develop core skills, boosted my critical thinking and changed my perspective over carrying business. The 21st century necessitates the need of business and management acumen, and for me, the lack thereof has been bridged by the knowledge acquired through the MBA.
In a nutshell, Akshada provided us all with a peek into her personal and professional life. Coupled with a strong engineering/technical background and now a solid understanding of both the business and the needs of the clients, Akshada believes to be more efficient and effective in her role. An MBA can help you transition by equipping you with a wealth of analytical and leadership skills.
If you wish to invite us to 'a day in your life', please reach out to Priya by email.
Learn more about MBA Programme from MANCOSA