Choosing Honoris Educational Network and the Postgraduate in Business Management
I chose Honoris Business school and the PGDM programme mainly because it offers a quality education at an affordable cost. After my science bachelor's degree at Monash University, I wanted to do a post-graduate degree with a recognized university while being in Mauritius. I got this opportunity with Honoris BS by having a PGDM course with the university of Mancosa. Another main reason why I chose the Mancosa PGDM offered by Honoris Educational Network was that as a working mother, I was looking for a course that is online as this will allow me to study at my own pace.
Facilities given by Honoris Educational Network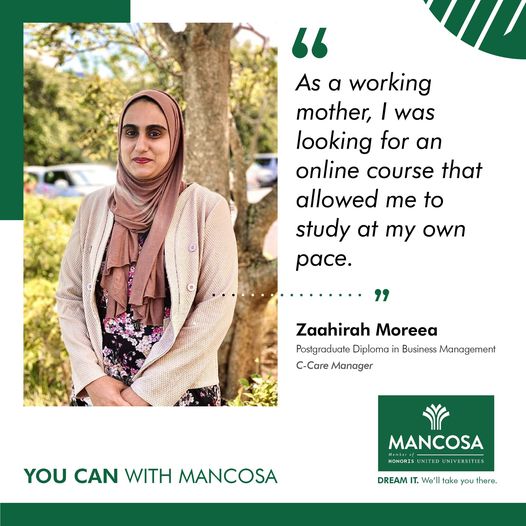 The facilities of payment with different payment plans can accommodate each individual's financial situation. This has really helped me as I have two kids and budgeting was important, especially in post-covid times.
The 100% Online classes with support classes are the main plus point for me. As a manager at C-Care, I have a very hectic job and I also need to manage my family life with 2 small kids. Online classes enable you to learn at your own pace while maintaining a healthy life balance
Amazing student support, Hats Off! The Mancosa Portal is great and ensures that all required information is easily accessible to the students. On top of that Honoris Educational Network ensures on their side that they send all the important materials to the students as well.
Her Journey with Honoris Educational Network
My journey with Honoris Educational Network is fantastic. I must admit that the lecturers are amazing and always ensure interactive webinars. I am super satisfied and it's a privilege to have such educational facilities in Mauritius.
How the Postgraduate Diploma in Business Management will contribute in her career path?
After completing the programme, this will definitely help me understand better the whole management concept and become a better leader. I am sure the course will also help me grow in my career and will boost up many opportunities in the future.
Doing a Mancosa PGDM with Honoris Educational Network is having access to international quality education in Mauritius and that too via an online platform. The support is so great that you feel like being physically present in the class, both with the South African and Mauritian webinars and lecturers. The level is very good and is a plus for career growth.
She 100% recommends Honoris Educational Network and its programmes to Everyone.